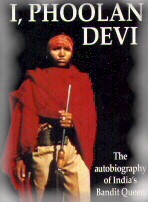 I, Phoolan Devi - A good Book to read - it gives hope to the hopelessness.

REVIEWED BY: CHOO SING CHYE
It is disturbing to know that these events happened at the doorsteps of our time. It could been more appropriate that this story sets in the 19th Century where the segregation of the society by caste and religion was prevalent.

I, PHOOLAN DEVI is a true story about an innocent girl whose father was cheated out of his inheritence by his brother. Her father used almost all his earnings to engage a lawyer to regain what was righful his but without success. At the mean time, they had to live in extreme poverty.

She was married off at the age of 11 to a widower who ill treated her. She was able to escape a few times but she was taken back to her husband. In the end, her husband himself took her back and she would have live peacefully with her family again, but this was only for a short while. Her enemies paid the bandits to kidnap and kill her. Her life was spared by one bandits leader who would later become her husband.

When her husband was brutally murdered by one his comrades, she was held captive and tortured. But she was saved by an old Brahmin friend. After this she was in contact with the bandits and she was helped by a Muslim bandit to form her own gang.

She was living a robin-hood life, stealing from the rich and giving to the poor. Finally, she gave up and was sent to jailed without trial. She was finally released in 1994 after 11 years the day she surrended . Later in 1996 with public support and sympathy, she became a Member of Parliament. in 1996. Reading this book, one is given hope that one could still find justice in a sea of hopelessness. Whatever crimes she had committed, she had paid in full by the inhuman treatment meted on her throughout her life and unfortunately, she only found solace and justice in the arms of a bandit and not in the arms of the law. Rightly, she should not spend a day in jail in the name of justice.


A Warner Book, Little, Brown and Company (UK), Brettenham House, Lancaster Place London WC2E 7EN, published in Great Britain in 1996